Latinx culture through Jessica Alazraki's paintings
-an interview with Jessica Alazraki
Communication Sciences, Advertising, Graphic Design and Art Direction are areas that are related and complement each other. What motivated you to study them and how would you describe your professional stage when you decided to move from Mexico to New York?
I started working in advertising at the Creative Department when I was very young and still studying for my bachelor's degree in Mexico City. I was a copywriter for many years, but I was always drawn to the visuals and enjoyed working closely with the art directors. When I moved to NY, I was hired as a copywriter for the US Hispanic market. Eventually, I studied Graphic Design at Parsons at night while I worked during the day, and thankfully, I was able to switch to art direction. I remember being so grateful and excited about that opportunity.
After you became a mother, you began to work freelance and took drawing classes. Do you consider this moment your first interest in art, or have you been thinking about it for a long time?
Yes, that's precisely what happened. I took a drawing class just to have an adult, creative space, and I also hoped to make money doing storyboards. I don't have a natural sense of proportion like most skillful draftsmanship, so I never thought it would be my thing. But the second I started, I immediately fell in love with it and knew I would spend the rest of my life as a fine artist. I thought it was a terrible move, but I couldn't help. I'm too passionate for painting.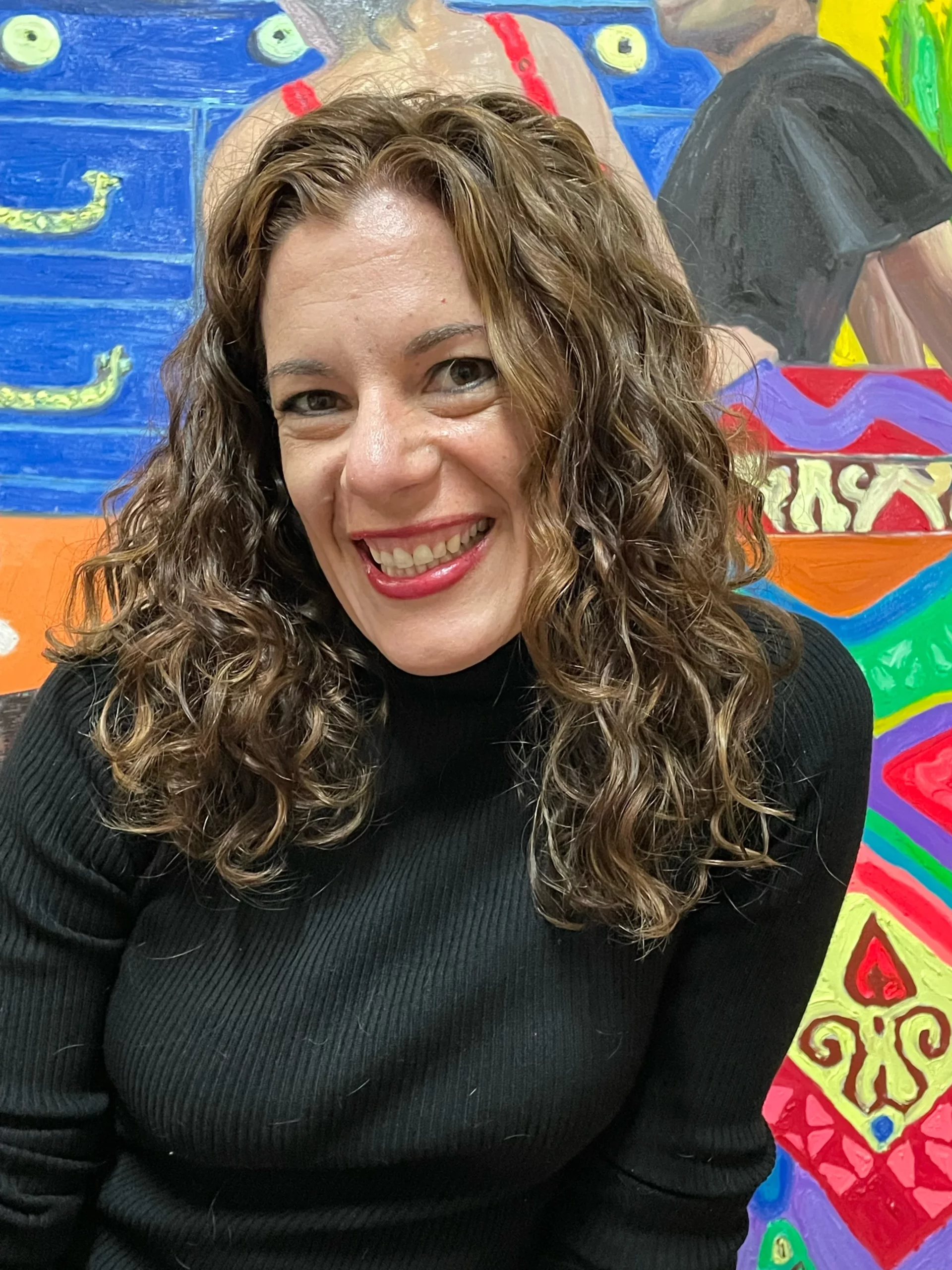 Being an immigrant and having that nostalgic emotion is crucial for my work. It wasn't a motivation. It was more a feeling; it came out naturally since that is who I am and what I know.
Legos & Secrets
Silkscreen print, 27.5 x 33 in (69.8 x 83.8 cm)
Produced on Fabriano 300gr
You studied at the New York Academy of Art, specifically drawing and painting, a period in which you also became interested in figuration. How does this phase connect with your current work?
I spent many years learning anatomy and figure painting. I never felt confident about it since I don't have a natural sense of proportion. Yet, I was fascinated and knew that even if I never had the goal to do photorealistic works or be accurate with the drawing, the more tools you have, the better the work becomes. I always prioritize emotion versus objective reality, but I also wanted the portraits to have dimension and sophistication, and the learning at The Academy gave me that power. Besides the technique I also learned to search for my voice as an artist.
What was the exhibition that highlighted you as an artist? Do you think it meant a turning point in your career?
Yes, of course. The solo exhibition La Familia at Black Wall Street Gallery in 2021 changed everything. It was a sold-out exhibition, and I met most of my collectors at that point and got to work with incredible people. I would always treasure those days. It opened the door.
In general, the titles of your works have a literal narrative of what is observed in the painting. How do you select them: before or after finishing the piece?
I never think about it much. I do select the title after I finish a painting. My kids think the titles are hilarious, which I take as a compliment, but it's not delivered. Making them as straightforward as possible is just a way for me to recognize them, and it's about the narrative and the primary colors.
Although you use photo references to create, you do not copy them directly or make sketches. How do you manage creative freedom during the process and what are the limits you challenge?
Sketching is not for me, I think there is a lot of one personality that must go on the canvas, and I am hyper, spontaneous, and impatient. I always start with a face and work around it without knowing what I will do. I love the freedom of my process and the surprise of how it will end up looking. It is easier to throw something on the canvas and start reacting and building it as I go. Otherwise, I can't do it. But also, the rawness and the first strokes are always my best work. That's what makes my work fresh and full of character.
Living in New York, the dynamics of art is always hectic, sometimes within a competitive environment. Do you feel part of this ecosystem, or do you prefer a little more tranquility?
I am in love with New York. I feel free comfortable in my skin, energetic, happy, ambitious, and productive. Yes, I admit it is expensive and competitive, but I would never change it for any other city. I feel slower cities are boring. I think traveling the world is important and I do appreciate nature and wish I could spend the summers at the beach, but NY is home.
You are a woman, a mother, an immigrant, and an artist. What are the biggest challenges you have faced in developing your professional career?
Well, the art world is brutal and cut-through. Everybody has a different journey because it's your life, not a job. That's why it is so challenging and won't give you an immediate salary like a day job. The challenge of being a mother is that it took away many productive years, and it made me start very late since I had a previous job. But at the same time, that's what I paint about being a mother and an immigrant. Those feeling and that life perspective it's what I try to communicate with my work. That's my essence.
Colorful scenes of Mexican families in everyday life are the main theme in your work, highlighting children, dogs, and cats, the latter two almost always looking directly at the viewer. What motivated you to paint them and how do you develop the "cinematic" argument?
Being an immigrant and having that nostalgic emotion is crucial for my work. It wasn't a motivation. It was more a feeling; it came out naturally since that is who I am and what I know. The cinematic argument comes from my DNA since I used to work in advertising, and I love the movies, and my family in Mexico is in entertainment. My grandfather was a movie director.
What are your most immediate professional aspirations?
I am ambitious and love being busy and under pressure. I paint every day and I am very prolific, so I like having many things going on. I want to increase my collectors' base, sell more paintings, and get more recognition through museums and institutions. Painting is my life devotion, and I want to continue building a solid career that can be sustainable and hopefully taken seriously.
From your collaboration with Multiplo a new version of one of your most outstanding works will be born that will allow you to expand to other media and collectors. How has been the work process for this specific project, including the selection of the piece?
Multiplo selected the piece, and I was delighted with it. Working with them has been a pleasure; the print has an extraordinary quality, and I hope to continue working with them.