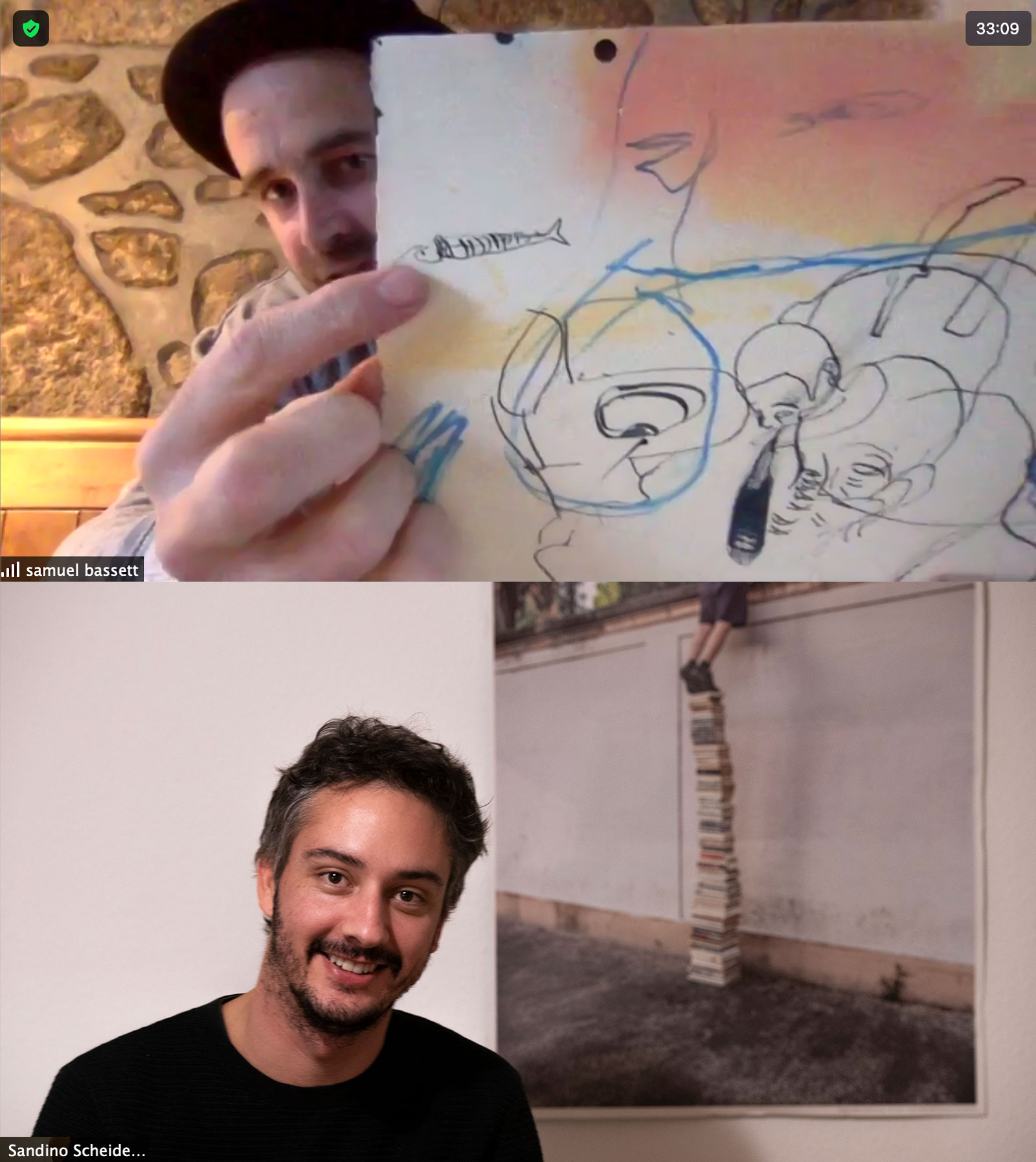 Good times outside the studio for a good time in it – an interview with Samuel Bassett

We haven't met. I know it's not easy to talk to a stranger about yourself, but what should I know about you to get a better understanding of you and your work?
I work here in Cornwall in the UK, where I'm based. My work is autobiographical. It's about here, it's about what's on for me personally and it's a recording of time and this place. I'm into it all, you know; I like to play, I like to make things.
What makes an email conversation differ from meeting you in the real world?
Well, it doesn't feel real; it's not a conversation, really. Personally, I like meeting people rather than writing down words. There is more to a conversation than written words, I feel. Reading people in front of me is easier than reading or writing words. So yeah, if you were here, it'd be easier. The difference is: this is shitter.
"My work is autobiographical. It's about here, it's about what's on for me personally and it's a recording of time and this place. I'm into it all, you know; I like to play, I like to make things."
Where would you have taken me if I had visited you in your hometown of St Ives?
Well, I don't live there anymore. I recently bought a house with my partner near a town called Penzance and moved my studio here too. I would drive back to St Ives though. Probably struggle to park and get pissed off. I'd say: 'let's just drive out to Zennor, go tinners!' We could have a pint and take a walk down and out along the coast. I'd take you somewhere I like to draw from, take you through the fields and on to the cliffs. I'm scared of cows, though. So we would have to avoid them if possible.
If we did stay in St Ives, obviously we could go for a game of air hockey in the arcade, do a lap of town to say hello to everyone, show you some old haunts, chat about the place and the funny times we've had here, growing up and of late. I love fun.
We could visit the Barbara Hepworth sculpture garden for a bit of peace and see her workshops; maybe walk up the back way and down over to the Tate for a look at their permanent display. They have an amazing collection on show. Great examples of works by the artists that put St Ives on that map a few years back and some good examples of artists and works that tie in. Amongst these, they have my favourite work: The Fisherman's Fairwell (1928) by Christopher Wood.
That's the richest part of town for me, beyond its natural features. We could have gone up to my gran's house for a pasty, but she died. So I suppose we could go to the sloop (a small sailing boat with one mast) for a pint or just go for a swim at Porthgwidden—chill on the beach. In my head it's late summer. It'd be a good day.
BETWEEN THE FLOWERS
Silkscreen print, 38.7 x 29.1 in. (98.5 x 74 cm)
Produced on 320 g 100 % cotton Canson paper
I'm in! You mention the branch of the Tate Gallery. Do you think of St Ives as a remote cultural outpost with a lively art scene? Or do you consider it to be more of a quiet space for artists to focus on their work away from the hustle and bustle of London?
St Ives has a great history, but it feels a little trapped, like a museum. Obviously there are still people working there where I had my studio space at Porthmeor Studios. Generally, I feel the Penwith peninsula has a great collection of artists, from painters, sculptors, photographers, film makers, writers, dancers etc. You know, all of it. I feel more excited when we escape St Ives and see these people who are dotted around the Penwith and a little beyond.
The Tate is a great resource and has a dedicated team, who are connected with the community through many routes, which is great. The new extension has enabled them to put on some great exhibitions and also have this permanent display. But yeah, for a small place, there is a richness in its people and what they are doing. It's a place where you can be part of the art scene in some way or work remotely and not know or care what's going on. It's just happening here and a lot of it is tied in and about here. Not just a wealth of diversity in the mediums and outcomes but in the collective enquiry into the place.
How do the town and its seaside inform your paintings? Your paintings often portray very specific situations with very specific titles, spanning the entire expanse between reality and its collapse. I'm thinking of your painting Beach Comber, for example, which shows workers sifting through trash on a beach full of tourists. Or there's Burning Boat, with people burning their own boat as a final call for help—maybe off of the very same beach!
My paintings reflect the landscape and they have subtle references to the painters that worked here before, but they're more about life, derivative of my personal life here. They are emotionally tied to the place and to my upbringing here; to anxieties, isolation, and changeable qualities like the weather, tides of people, mental states—not just the sea, you know. The highs also, the fun of the place. This place does inform them; the work is of it, but I try to make a more ambiguous setting for my narratives. Removing them from it all slightly.
So yeah, from cleaning the beaches and swimming at night, watching my dad return from sea to bigger shifts, changes of industry and landscape and all. As I say, it's all tied in. Paintings are informed by all sorts, as far as my memory lets me delve.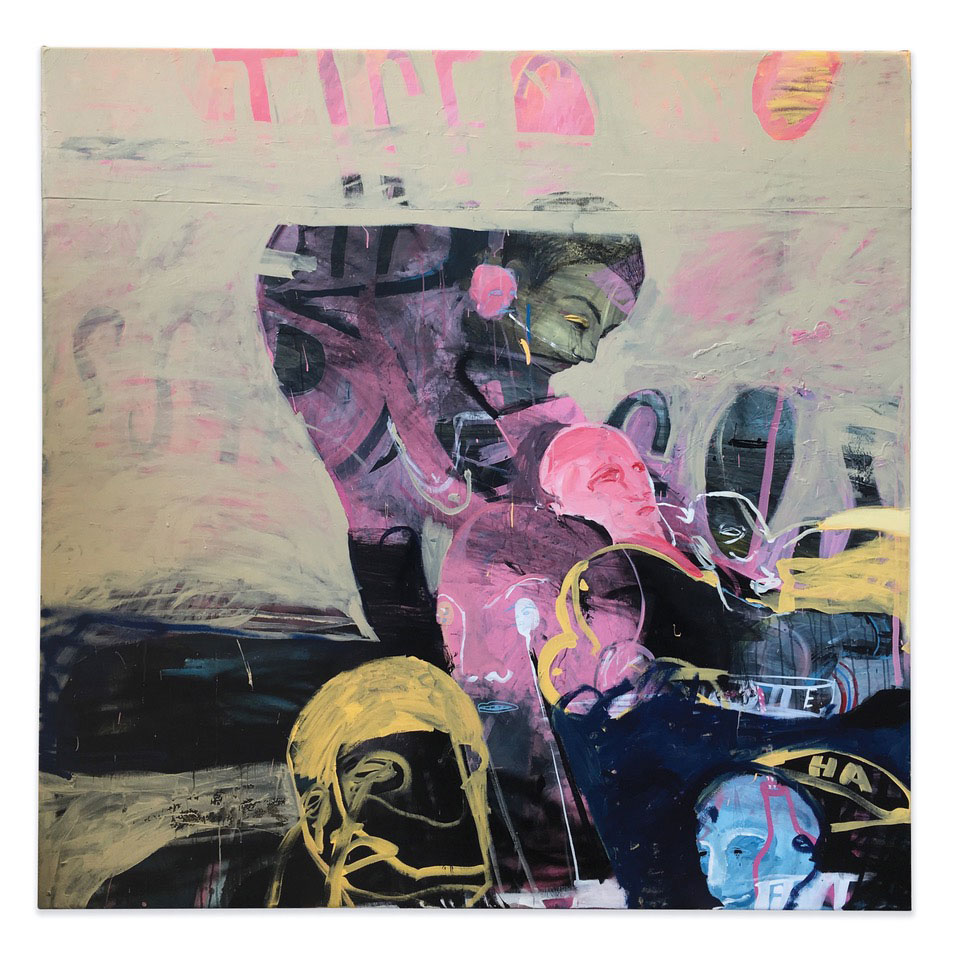 Horizons never go anywhere. They always seem to guide and entice us, as they do in many of your paintings – the horizon as magical line, as frontier between the known and what lies beyond. What draws you to them?
The fact that there's always one here. When I moved to London, I'm sure I had mirages. I'd see one, I'd see the sea down the bottom of Kingsland road. But yeah, always seeing it, growing up, it asked questions: what's it like beyond that line? But, in a way, it remains an unreachable line, always there, however far away.
Horizons keep you hungry, ambitious, as they set a finish line. But obviously, as you reach it—whatever it was—, another goal is set, the horizons move further away. Visually, they set a painting for me; give it a place or sense of place. I guess landscape painters always orient themselves with horizon lines. I am a landscape painter first, before I'm anything else.
The art world is known to be full of jetsetters – or at least it was, until Covid-19 hit. You, however, have said that you never felt the urge to fly and go places. Did you ever think of exploring the seas behind the horizon in your early days?
I don't like flying. I'm sure the stress of each flight takes a day off my life, but I do love travelling and witnessing new things; seeing and learning, definitely trying good food. Then again, maybe I travel by painting; I can paint myself anywhere I want. I can even be in many places at the same time, while being happy in my studio. I'm a big daydreamer anyway, always somewhere else apparently. I'm sure one day, maybe I'll go for residencies or just find a place that interests me enough to work from.
But until then, I am happy here. I did always fancy it, though. I feel like this, here, is where and what is important to me and the work I am making. I did look around and think: maybe I should be there, part of that, what's going on, try this. But I'd just be tricking myself at this point. No point in chasing something that isn't going to help me. I've kind of tied myself to this bit of granite and it feels right for me. I can comment from here.
Being a painter can be lonely at times – but this seems not to be in your nature. You haven't started talking to the figures in your paintings, have you?
Haha! Yeah, a bit of a one-way conversation. During the first lockdown, Covid time, I made about 400 works on paper. I was drawing through ideas and making plenty of new paintings of myself in front of a mirror, making self-portraits of me in the garden, dreaming to be outside beyond this with other people! This is where my painting Between The Flowers was created, which is used for the large-scale print with Multiplo.
I do love the studio but normally, when I can work quickly, a few hours in the studio is good enough. Then I need to get out, talk to people and engage in social activities. I need a good time out of the studio to have a good time in the studio.
How would you compare the practice of printmaking to painting, and what inspired you to explore the intersection of the two and release a silkscreen print with Multiplo?
I've worked in print and mostly self-published in order to explore material and a traditional technique like etching, which I was interested in. I love playing with any material. It helps get diverse outcomes and I really like print as a thing.
I am however so bad and lack the enthusiasm to reproduce works of art. That's why editioning becomes tiresome. So now I love to work with people that can help me and masterfully do this part of the work. I know it takes a lot of skill and knowledge to do this. I lose it past the initial idea or first parts of the process. I have a lot of respect for these masters.