Queen and her Kingdom: Tania Marmolejo
In 1887, the Dominican writer Salomé Ureña recited the poem "Mi ofrenda a la Patria / My offering to the Homeland", of which I highlight the following fragment:
And if progress and peace and independence
show the orb your ambition yearning,
strong, as shielded in her conscience,
of their own sovereign destinies,
to be a light and guide from home
Let us form the Dominican woman.
Coming from a multicultural family: How were your beginnings as a woman artist in your born country?
I basically was born holding a pencil! I drew from a very early age and had the support of my parents when they realized it would be a life-long obsession. Both my grandmothers- Swedish and Dominican- were artistic, so art was in the family.
After studying, at the end of the 90s, in Altos de Chavón, known as the "City of Artists", you obtained the Bluhdorn scholarship and continued the studies in Fine Arts and Illustration at Parsons The New School for Design, New York. If you compare it with your previous stage, what are the differences that you experienced between Chavón and Parsons?
Chavón was the place that taught me to refine my art, to understand how to better produce what I had learned as a self-taught artist. It was the most intense 2 years of my life, where I lived and breathed art. Parsons was more a place to make contacts, understand how the creative commercial world functioned.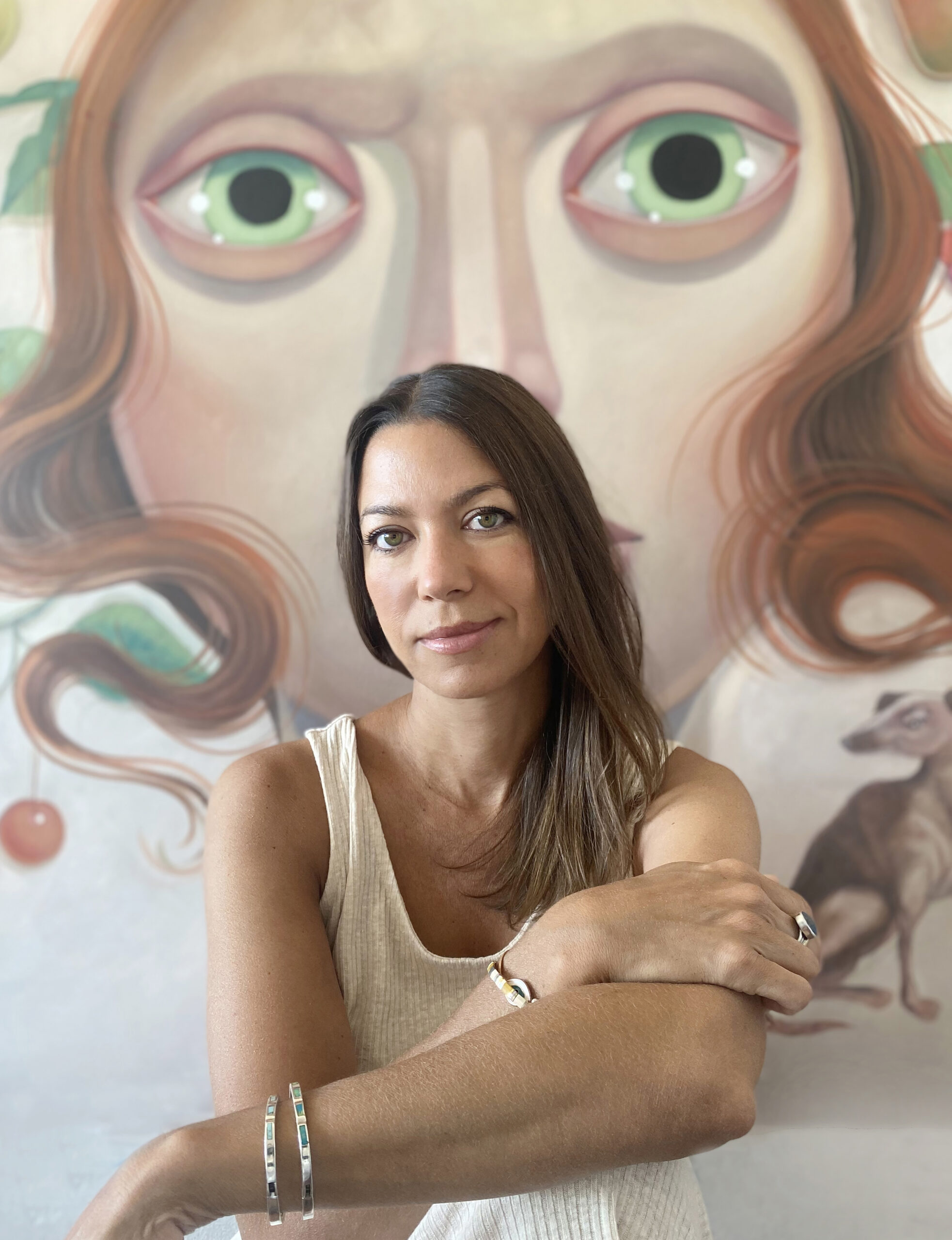 "I did not always paint in large format. The change happened when I was told my art was "too feminine" and maybe I needed to change it. So, I did. I blew up the faces and made them huge, as a protest."
REINA Y SU REINO
33 x 34 in (83.8 x 86.3 cm)
Fine art archival giclee print on archival cold
press cotton rag 300gsm
Hand-embellished by the artist making each print unique.
Your training is multidisciplinary and from the beginning you have also worked in design. When and how was the transition to painting?
I always painted, but also always loved illustration and graphic design. Actually- all design- architecture, interiors, fashion. So, I felt I wanted to try everything, and found I loved designing prints and textiles. I worked for several years as a print designer. I then realized what I wanted to do most was continue painting and exhibiting and had to make a decision instead of trying to do everything by dividing my time. Once I dedicated all my time to painting, things really started working for me.
Most of your works are known for female portraits with their own original identity and expressive eyes. Do you have any special reason why you work with large format and what is the challenge that your "characters" face?
I did not always paint in large format. The change happened when I was told my art was "too feminine" and maybe I needed to change it. So, I did. I blew up the faces and made them huge, as a protest. Little did I know they would suddenly catch everyone's attention. The challenge I face is to keep the expressions ambiguous and interesting. I'm not interested in "pretty" faces, I'd like them to be a little strange and disquieting.
The process: How would you describe a day of work in your studio?
I am very disciplined, so it begins around 8, 9 am, and I just paint. Either starting a new painting or finishing an older one, I am always creating, experimenting.
Previously I mentioned that you come from a multicultural family as you are the daughter of a Swedish mother, a Dominican father and reside for several years in New York. How does this influence your work by having an expanded vision of humanity?
It influences my work because there is no "correct color", no "correct skin tone", no "correct features". I am very open- minded and loving of humanity as a whole, and it is the differences that I love. I like to "merge" features and characteristics and create my own characters that don't seem to belong to any particular "type". 
During the prolonged crisis by the Coronavirus, art has proven its importance today and there has been an awakening to collect more emerging works. Do you think that women artists have gained more visibility?
I do and I am living proof. I've never seen so many exhibitions that feature women artists as I have during and post- pandemic, and I've never been invited to show in so many galleries. There has been an awakening. People want to see honesty and variety and newness, and new points of view.
With more than 20 thousand followers on Instagram, many people access your work for different reasons. Do you consider that social media is an effective way to promote artists?
I love Instagram. It has been very good to me and my career as an artist. For artists visibility is so important, and social media is visibility. I am grateful for it.
You have been invited to collaborate with Multiplo in the launch of an exclusive serigraphy of the work "Reina y su Reino", 2021. What are your expectations with this new project?
I am very excited to show my work to an audience that maybe isn't familiar with it at all. The different price point that a print present is a great way to get people interested in collecting that perhaps wouldn't be able to otherwise. Art should be democratic, it is life-changing to have art surround you, and this is a great opportunity to have that experience as a new collector. I also love the idea of having a project in Latin America, yet that is accessible to anyone around the world.